Training & Creative Space for Circus Aerialists and Movement Artists in Virginia Beach
---
Subscribe to our mailing list!
Be the first to hear about announcements, updates & special offers.
Never spam, unsubscribe anytime.
VB Aerial Arts Collective 2022
About Us
VB Aerial Arts Collective is a safe space for circus aerialists & movement artists to learn, grow & create. Students and instructors are welcome here. We offer classes specific to circus aerialists to include Silk, Lyra, Sling (hammock), Rope, and other apparatus' upon request. We also offer space for other movement instructors or artists to host events or workshops, contact us!**This is a safe space for every human regardless of race, religion, gender identity, sexual orientation, political affiliation or age. All are welcome here <3 <3 <3.*If you have any concerns about experiences you have had at our studio with any of our staff, please contact us here: vbaerialarts@gmail.com. We will take your concerns very seriously.
Our Instructors
(Click their photo or name to learn more)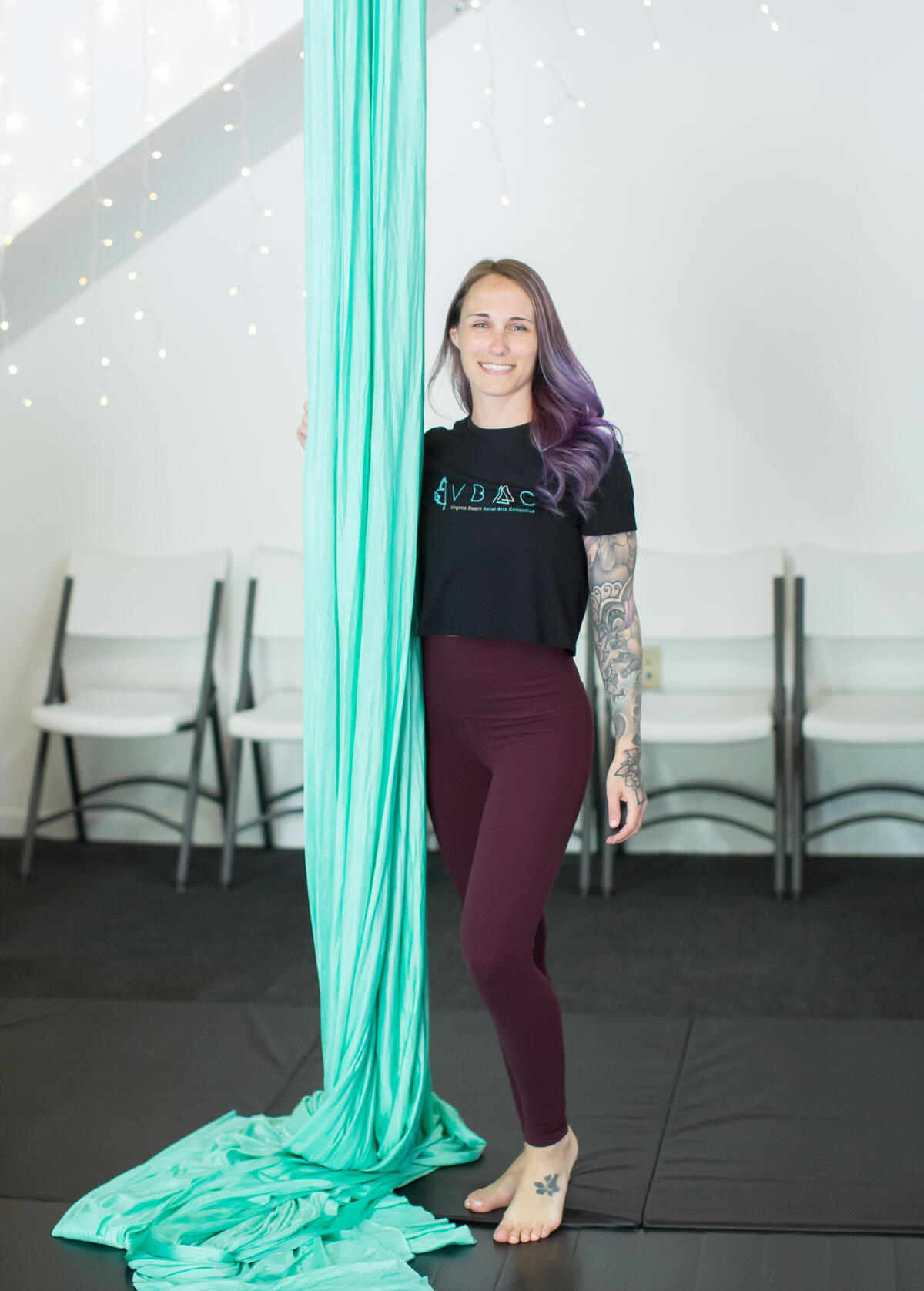 Founder/Owner of VB Aerial Arts Collective LLC and KP Aerialist performing arts.
---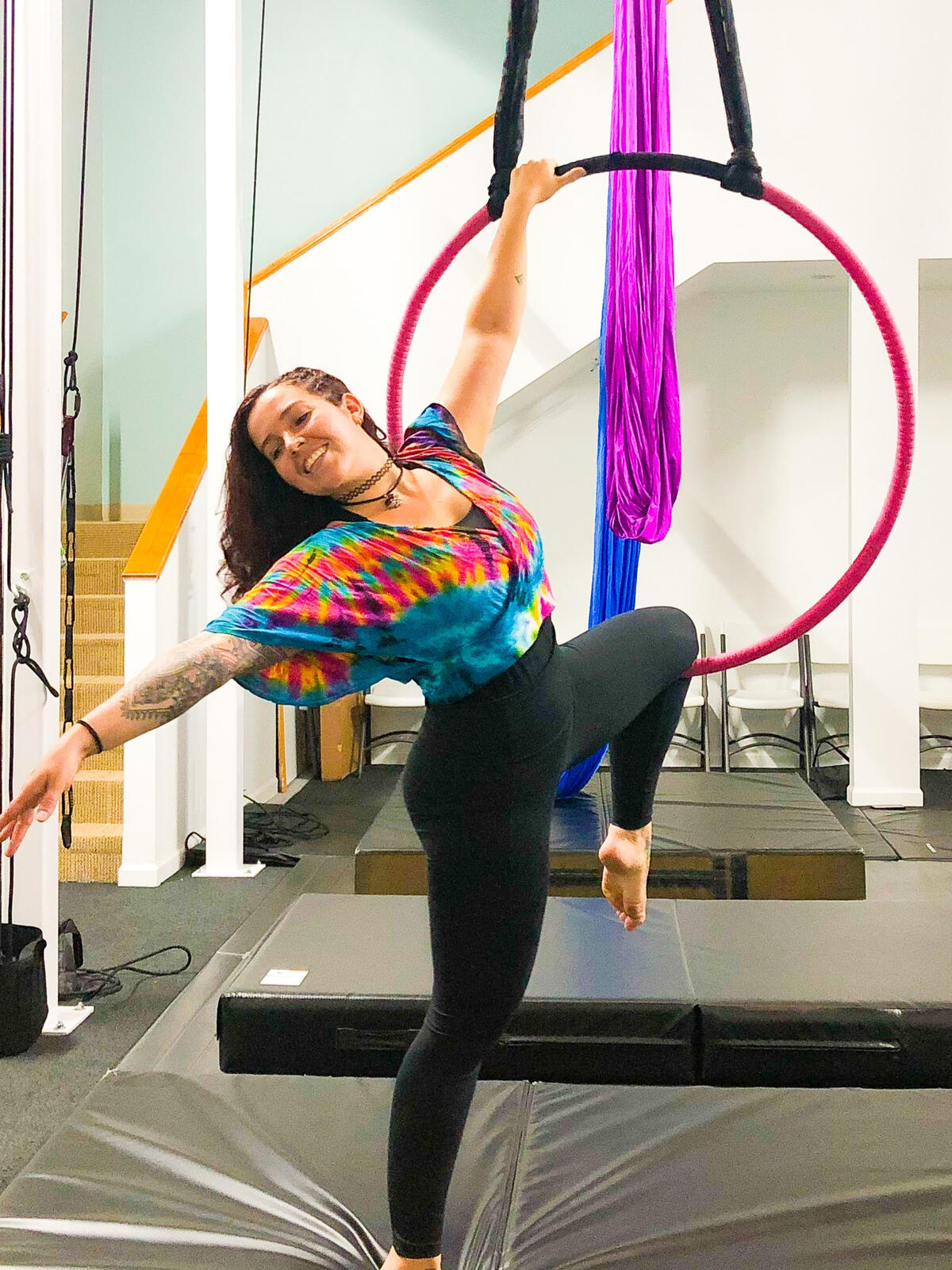 Creative Director & Lyra/Hammock Instructor at VB Aerial Arts Collective
---
---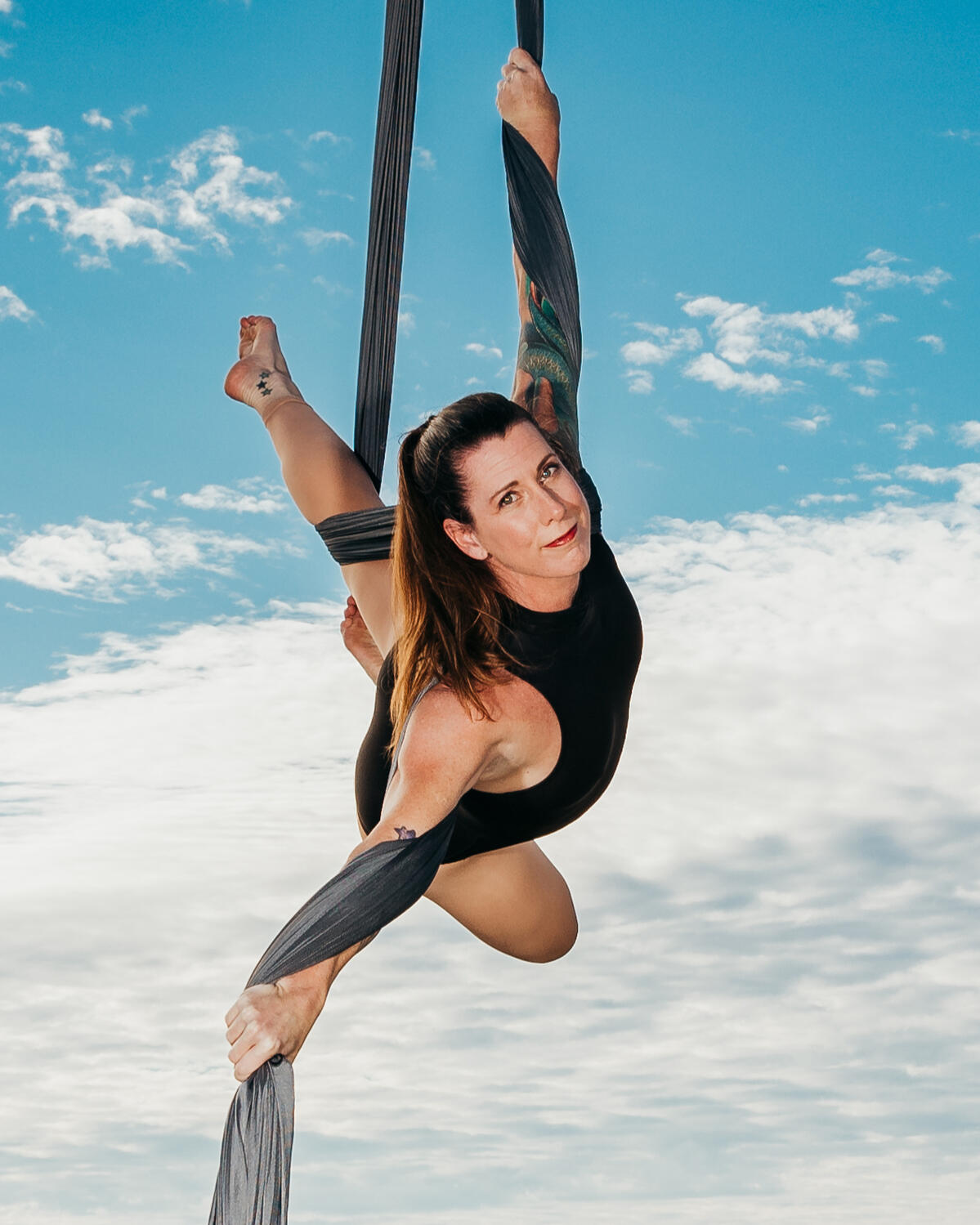 Yoga & Aerial Yoga instructor
---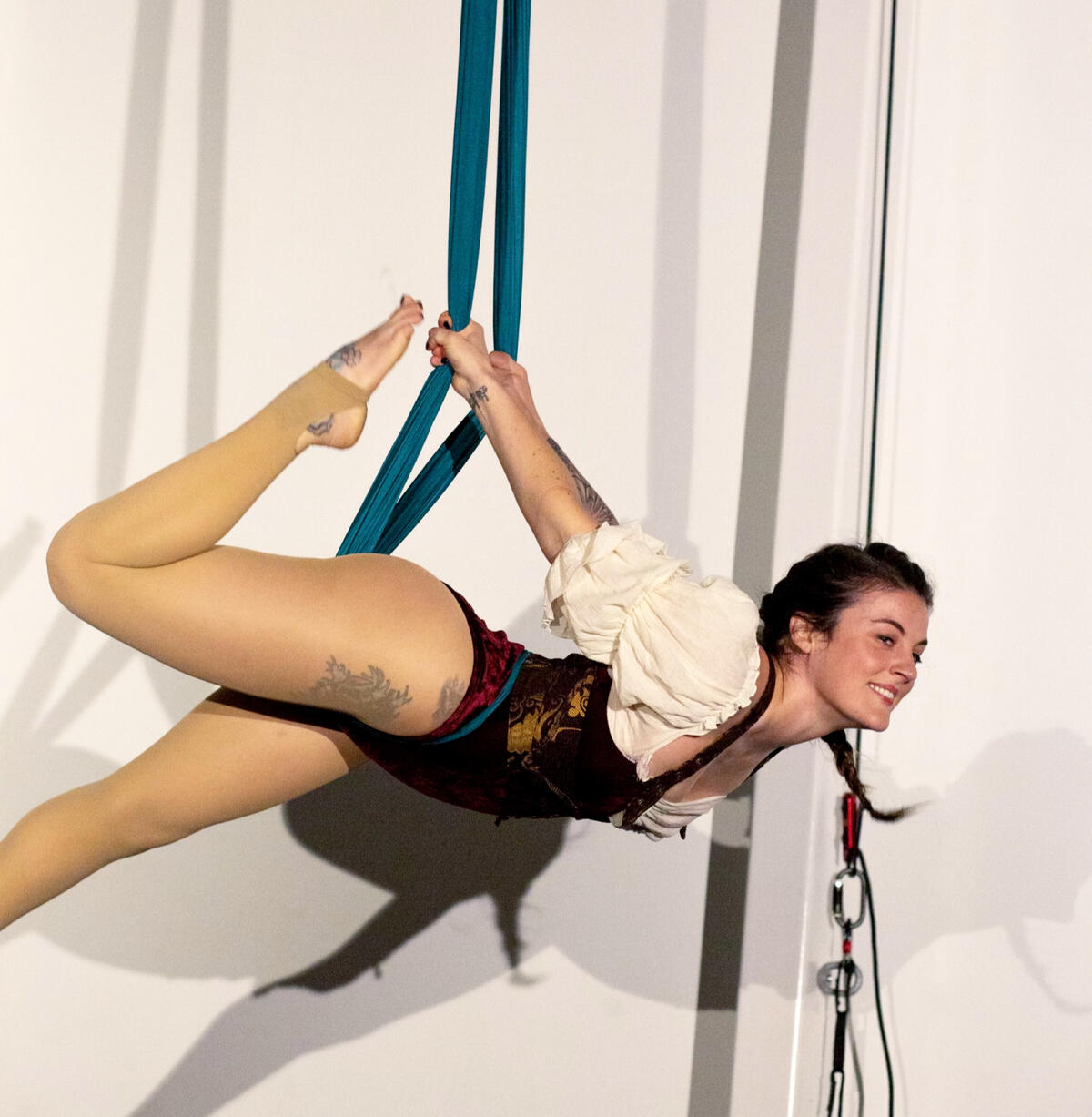 Aerial Hammock(Sling) Instructor
---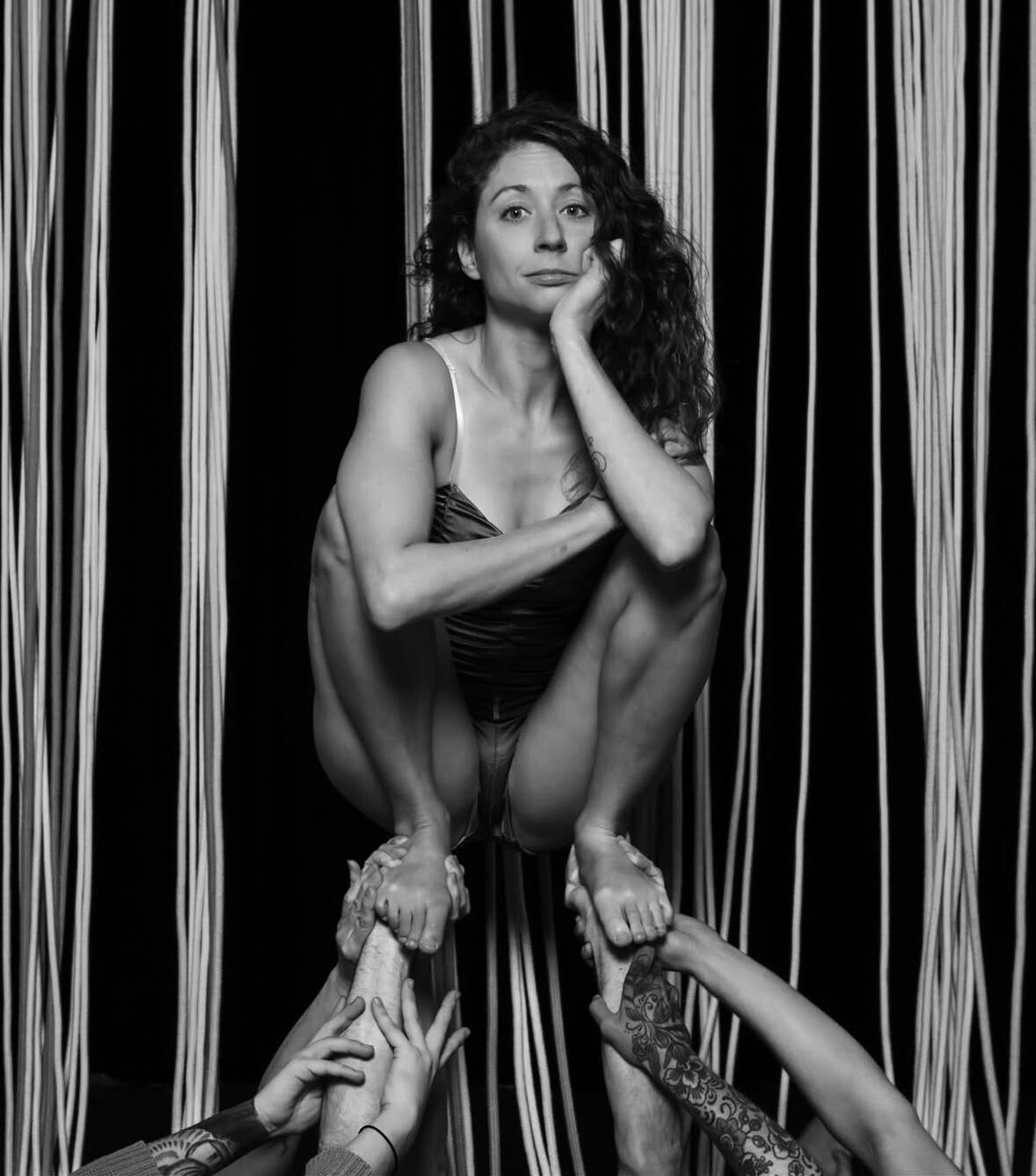 Aerial Silk & Hammock instructor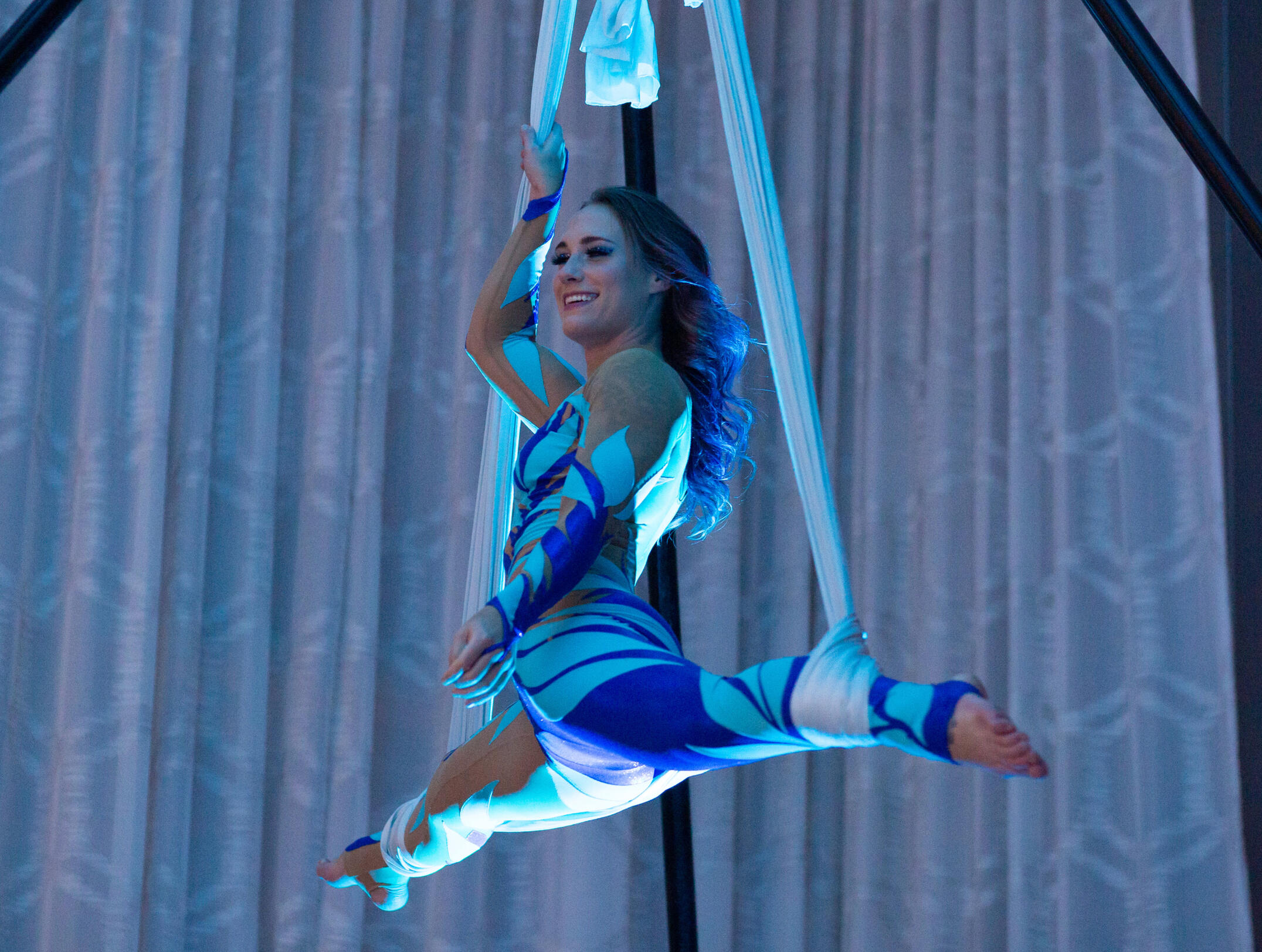 Kelsey Poitras (aka KP)
Founder/Owner of VB Aerial Arts Collective LLC and KP Aerialist performing arts.Kelsey has been training circus aerial arts since 2011, she specializes in aerial silk as well as aerial sling(hammock), rope(corde lisse), & dabbles on lyra. After completing her personal trainer certification in 2010 she was determined to find a fun and interesting workout. Her first circus class with Julianna Hane in South Carolina was where she found the start of a new fitness and creative journey. Born and raised in Philly, KP has since traveled along the east coast until finding her home in Virginia Beach. Through her circus career she's traveled all over to train with reputable coaches such as Jessica John, Brit Crumpton, Robin Berry, TT Robson, Caitlyn Larsson, Christine Van Loo, Siobhan Jonstone, Tori McGrory, Jen Bruyer, Sarah Romanowsky, Kerri Kresinski and many more. With certifications through Integrative Nutrition, Power Pilates 1 & 2 and 200hr RYT through Yoga with Carson Academy she puts a big focus on fitness, health and helping others find their happiness. She wants to bring the Hampton Roads circus community together and see people have fun as they meet their goals and reach new levels of creativity.
Interested in booking her for a performance? Contact us, or go to her website to contact [www.kelseypoitras.com]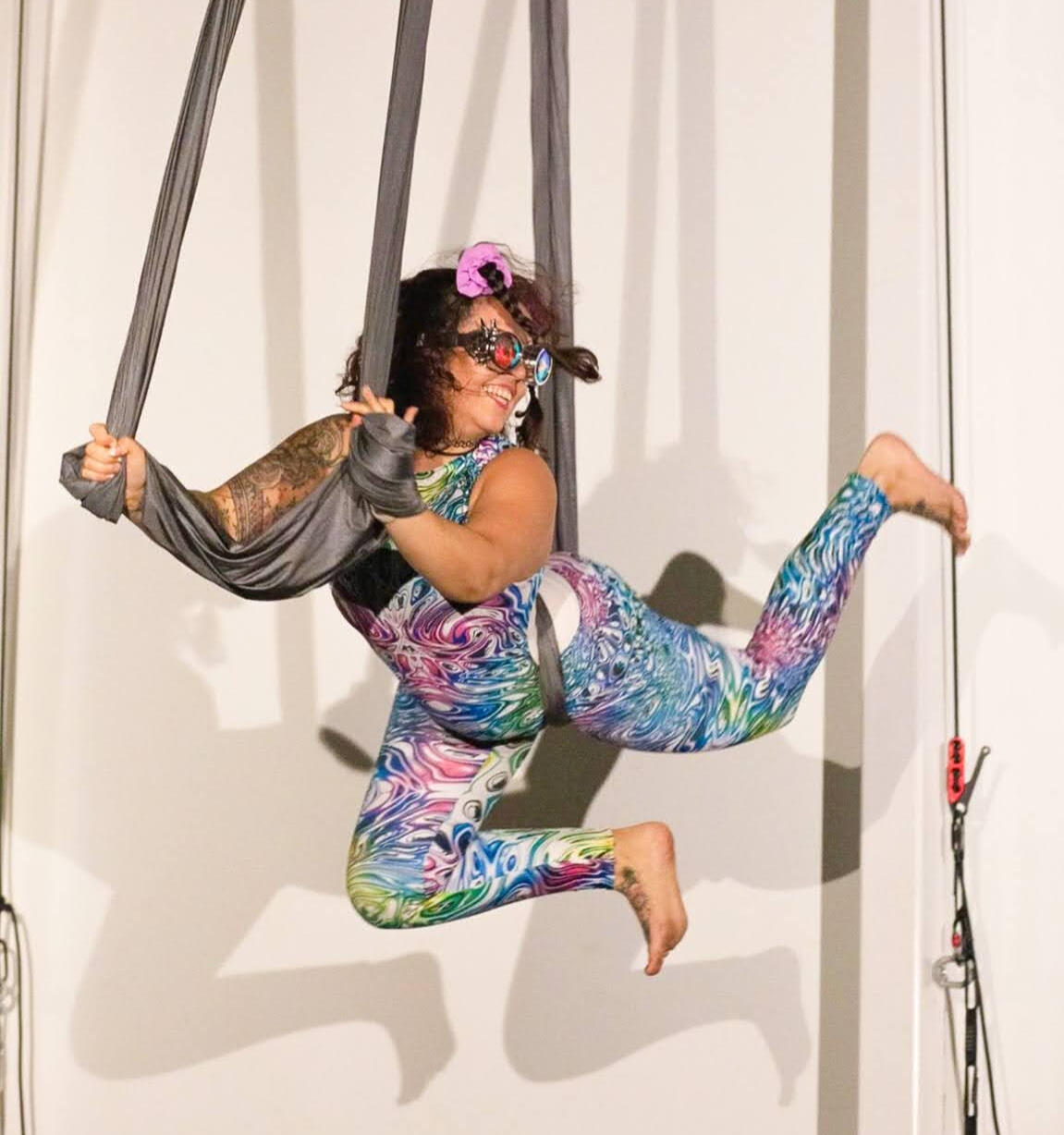 Sovay McGalliard
Creative Director & Lyra/Hammock Instructor at VB Aerial Arts CollectiveSovay started her aerial journey in 2017 at the age of 25 with no background in dance or fitness. She never liked working out and spent years trying a new fitness regime every couple of months only to give it up after a few weeks. Aerial was different, and it was the first physical activity she found that she truly loved, and still loves after many years of practice.Aerial has given Sovay a way to enjoy movement and physical activity and to express herself creatively. But even more than that, she found a community of amazing people from across the globe that are warm, caring, passionate and inspiring. Sovay spent October-December of 2020 in Puerto Escondido training silks, hoop and contortion with teachers Kerri Kresinski, Chloe Axelrod, and Dwoira Galilea, and has been consistently training with Brit Crumpton (Aerial Firebird) for over a year now. Sovay will always continue to seek out new learning opportunities because there is always room for aerialists to grow!Sovay strongly believes that aerial is for all people and for all bodies regardless of size, strength or flexibility levels. She's passionate about giving her students a solid foundation of good technique and knowledge of injury prevention, and then encouraging them to explore the creative and performance aspect of the art form. She loves watching her students grow from unsure beginners to confident aerialists, and her favorite part of having our own studio is running our showcases. Sovay is always excited to see performances from all of the amazing aerialists that we have in our growing community!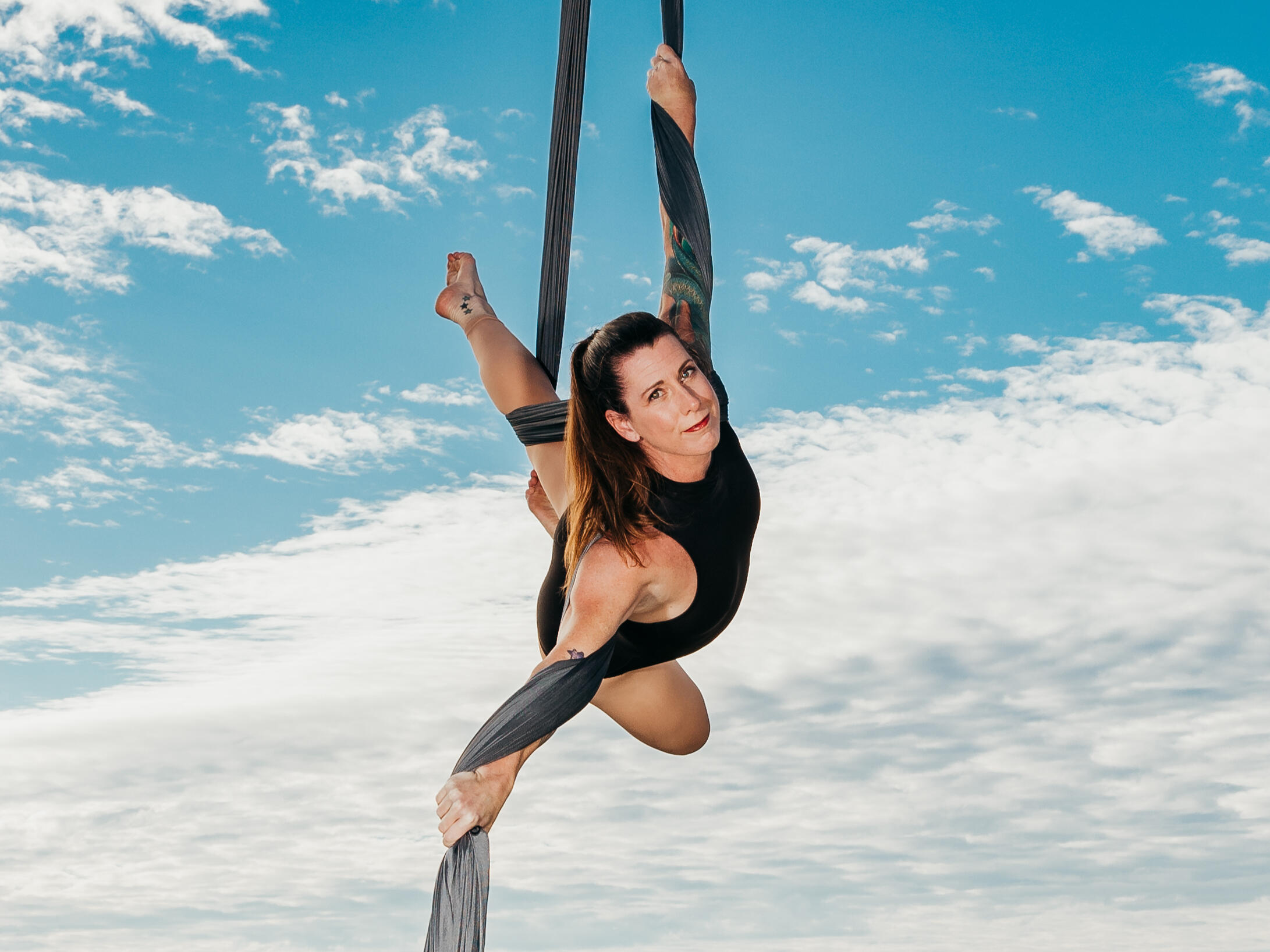 Heather Harwell
Yoga & Aerial Yoga instructorHeather was first exposed to yoga during her college years, then deepened her practice following the birth of her daughter in 2013. Two years later (just shy of her 35 th birthday) she stumbled upon the aerial arts and took a silks class with Kelsey; she has been flying ever since. Heather has taken classes and workshops throughout the Hampton Roads area and along the East Coast, specializing in silks and exploring lyra and trapeze. After relying heavily on her yoga practice during the pandemic, she became a Registered Yoga Teacher (RYT-200) through Yoga Alliance, specializing in vinyasa but eager to return to her aerial roots. Aerial yoga provides her with the opportunity to marry two of her greatest passions.
She considers it a privilege to be able to share that joy with others in an accessible, stress-free atmosphere at VBAAC. She firmly believes that you're never too old to fly, or to try something new.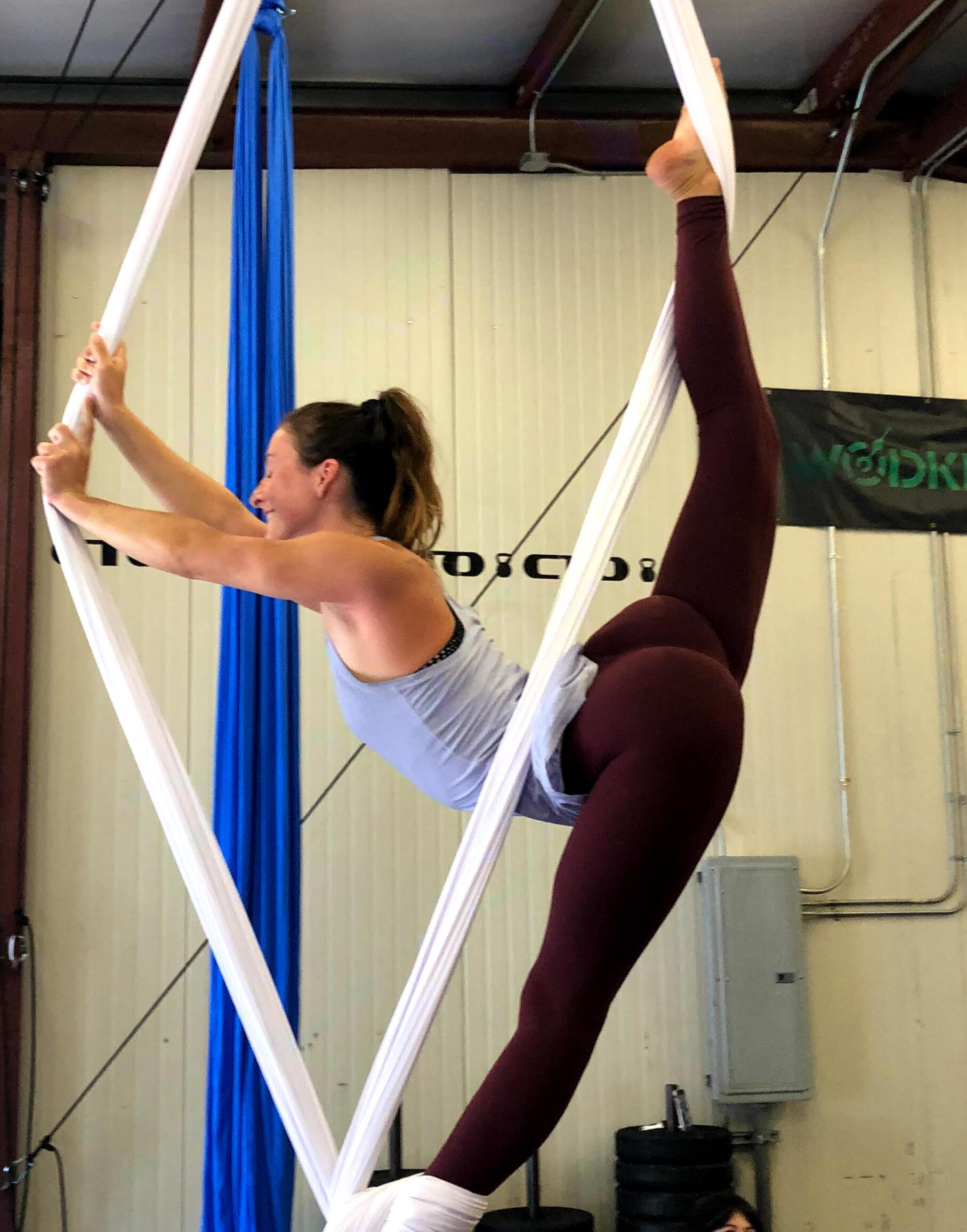 Isabella Shucet
Aerial Silk InstructorIsabella is a certified personal trainer with 7 years of experience in the aerial arts. She has a passion for physical activity and appreciates the aerial arts as a perfect blend of fun and fitness. She enjoys applying her knowledge of exercise science to the aerial arts in order to help students stay injury-free and achieve their goals. In her classes, students can expect to learn proper technique, build strength, and increase flexibility while having fun and expressing themselves through the art of aerial silks.Isabella believes that every body is capable of learning and thriving in the aerial arts, and she encourages students to discover the limitless possibilities of their own strength and resilience through movement. Seeing students progress from complete beginners to skilled aerialists is Isabella's favorite part of the job. She is always looking for ways to improve and grow as a coach, and is dedicated to providing the best possible experience for her students at the VB Aerial Arts Collective.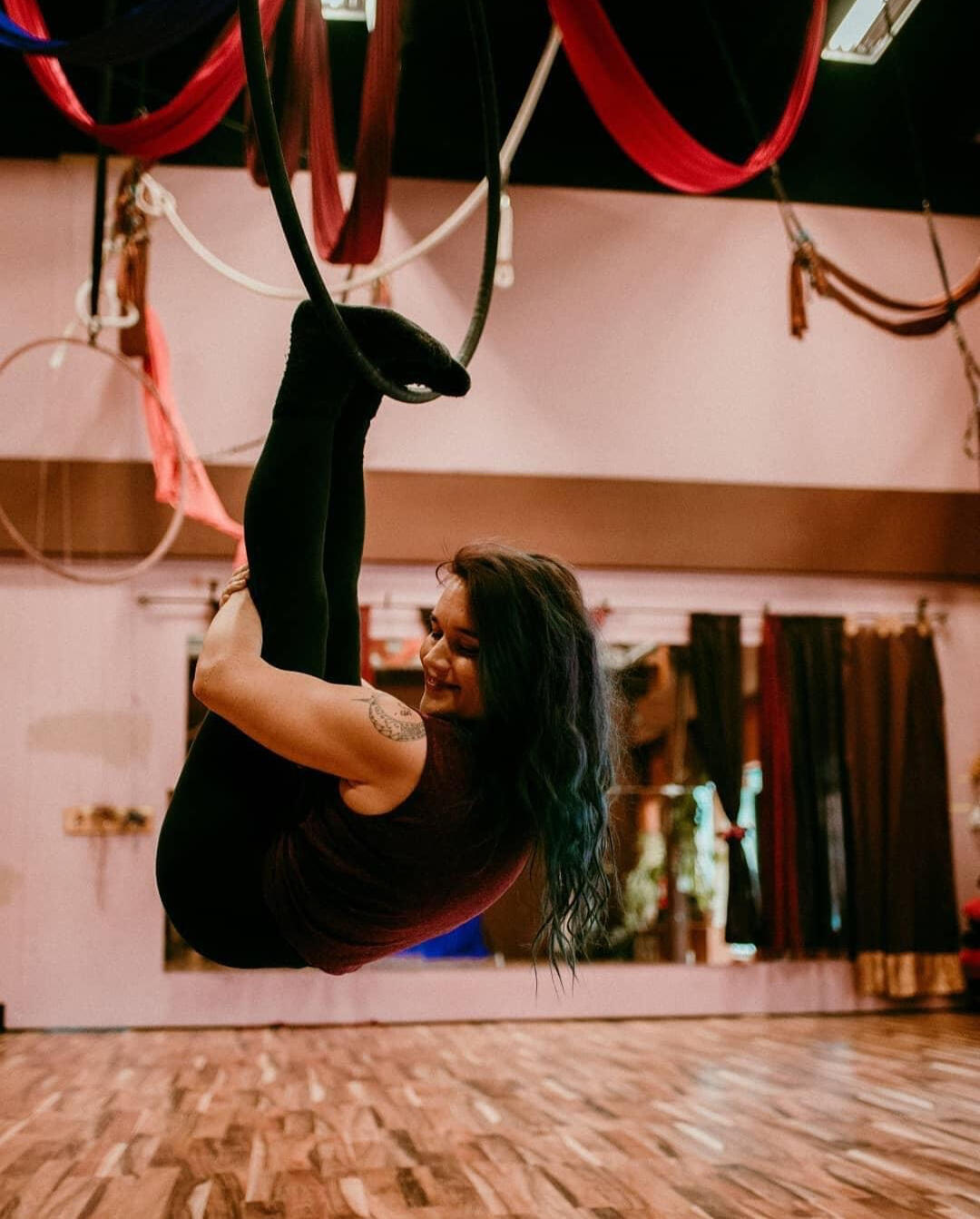 Shannon Randol
Aerial Sling (Hammock) InstructorShannon has trained in aerial arts since August 2018. Her journey began at Urban Aerial Fitness in Orange County, CA. She dabbled in pole and lyra, but her heart always belonged to sling and silk. While Southern California will always have a special place in her soul, she's originally from Buffalo, New York. GO BILLS!
If Shannon isn't at the gym, you'll find her in the kitchen taste-testing new recipes to share with friends or with her nose stick in a book. She welcomes all unsolicited book and recipe recommendations in her DMs. Shannon loves sling and can't wait to share the best parts of it with her students. You can catch her All Levels Sling class on Saturday's at 9AM.
Book a Class
We offer private lessons, weekly adult group classes, kids series classes, specialty workshops and parties! Click BOOK NOW button to go to our scheduling site. Click CLASS DESCRIPTIONS to learn more about our class levels & refund/cancellation policy (also shown at time of booking).We also offer a training space for traveling artists & instructors *please contact directly for details.
Class Descriptions
Aerial Foundations & Conditioning $25
Beginner friendly. Multi-apparatus class, using silk, hammock & lyra. This class is more fitness based, using foundational aerial movements to encourage students to gain strength and find ease on each aerial apparatus. Get stronger while having fun!
Beginner Lyra (Hoop) $35
Beginners Welcome, no experience required! If you are new to Hoop this is the place to start! In this class we will cover fundamental mounts/hangs/skills and transitions. Modifications will be offered to accommodate/challenge all strength and flexibility levels.
Beginner Silk & Hammock $35
Absolute Beginners welcome, no exercises history required! Come learn both the long aerial silk and aerial sling (hammock), not to be confused with aerial yoga, this is a circus based class where we'll learn basic tricks and poses. Modifications and progressions will be given individually as needed.
Yoga (non- aerial)
Join Heather for a gentle yoga flow class to release tension, gain strength/flexibility, and calm the mind. We'll engage in traditional postures with variations to accommodate yoga practitioners of all levels. Suitable for aerialists and non-aerialists alike. Come unwind and destress in a supportive space.
Aerial Yoga
Aerial yoga is a non-circus based class. This is an actual aerial yoga class with emphasis on breath, movement, balance, flexibility and calming. This is an all levels class, everyone will be given options to modify or fully express the asana so the level of intensity will be up to you.
Belly Dance 4 week series $80
This is a 4 week series with the amazing Amber Amera ! All levels welcome, from beginner to advanced.
Learn the ancient art of belly dance. Join Amber on a journey of self-expression combining musicality and technique in this low impact and sensual dance.
Lyra (aerial hoop) Level 102 $35
This class is for students who have been attending lyra classes consistently for at least 6 months. Instructor approval required. There are no strength/skill pre-requisites, but this will be a faster paced class students will need to be familiar with our ground/aerial warmup and conditioning.
Silk Level 102 $35
Must have prior aerial silk experience and have instructor permission to join class. This is an advanced beginner silk class, it is highly encouraged that students feel comfortable attempting climbs and can hold their own body weight suspended in the air. If you are still working on comfortably climbing the silk or completing footlocks you are encouraged to join the Aerial Foundations class, as that will better suit your needs and work at a more comfortable pace.
Silk Sling (Hammock) $35
Not yoga This class is for students who have been practicing aerial sling/hammock for 3+ months, instructor approval required. We will be focusing on learning skills, drops, and sequences! If you are looking for a beginner class, please check out Beginner Hoop and Hammock, Beginner Silk and Sling, or Aerial Foundations and Conditioning.
Silk Level 2 $35
Prerequisites: Climb to the top of the silk, execute footlocks at the top of the silk, clean and consistent inverts in the air, and have taken level 102 silk for at least 6 months consistently to understand and comfortably execute basic pathways and sequences.
This is an intermediate class, students must have permission from the instructor to join this Level.
Silk Level 3 $35
Advanced students only. This class is for those who have completed at least 2 consistent years classes and have a good understanding of silk wraps and pathways as we dive deeper into them and learn sequences. Must have instructor permission to join class.
Aerial Spin Fundamentals - Lyra/Sling $35
Get ready to spin! This class will focus specifically on spins and spin technique. We will cover how to start your spin, center it, and cleanly take off. We also work on flares, pencil spins, flyaway spins, etc. You can choose either hammock or lyra for this class.Prerequisites - at least 3 months consistent aerial practice and a willingness to spin!
Open Practice $10
Ages 16+ This is a supervised aerial open practice hour, students are to practice only things they've already learned and can do safely without having to be instructed. If you are not a current student of ours please contact us at VBaerialarts@gmail.com before signing up!
Please note- some of our open gym times run at the same time as an aerial class, for those we only offer 2 students to sign up so we have enough aerial points for class.
Hula Hoop Flow Workshops with Ami
Join Ami In this one hour workshop we will explore self expression through hoop dance flow while learning some fun hoop choreography that you can incorporate into your daily movement. This workshop is designed to help bring joy to your self care practices with hoop dance flow showing you how to motivate yourself through movement to improve your life, physical and mental health.
Hoops provided, though you are welcome to bring your own.
Kids & Teens Ages 8-15
Ages 8 and up only! Classes are 60 min.Beginner class is held every Wednesday at 5pm. Drop-in's welcome. Look for Ages 8-15 "All levels" on our booking site.Ages 8+ L102 (Advanced beginner) is held every Monday at 430pmTeens L102 (Advanced beginner-intermediate) Saturdays at 1230pm
REFUND & CANCELLATION POLICY
Adult Weekly classes/Open Gym:
*Cancellations/Reschedules must be made at least 24 hours prior to your scheduled class in order for funds to be applied to a future class date of the same amount, if canceling/rescheduling within 24 hours of your scheduled class there are no refunds & no option to apply funds to a future class date.
*Cancellations made at least 3 days prior to your scheduled class are eligible for a full refund upon request (please email us), otherwise funds will be applied to a future class of the same cost.
*Enrollment based! If there is not enough enrollment within 24 hours of the scheduled time, class will be cancelled and your funds will be credited towards your next appointment.
--Kids classes:
Monthly passes may be cancelled up to 7 days prior to the renewal. No refunds or partial refunds for monthly passes.
Students with 1x per week pass can makeup any missed classes in the other class day they don't normally attend.
Students with 2x per week pass do not have makeup days as that is factored into the pricing.
Drop in classes can be cancelled/rescheduled 24 hours prior to the scheduled date. If within 24 hours there is no option to reschedule or refund.Workshops & Private/semi-private lessons:
No refunds. You may reschedule and put your funds towards a different date if notified at least 48 hours prior to your scheduled appointment. Do keep in mind workshops dates vary depending on availability of the gym it's held at. Funds are non-refundable/non-transferable for no-shows or if cancelled within 48 hours of your scheduled appointment.Youth Summer Camps:
Cancellation Policy:
You may cancel for a full refund up to 14 days prior to the event start date. If canceling within 14 days of the event start date there are no refunds, no exceptions. In the unlikely event that a camp is canceled by the studio for any reason, you will be notified as soon as possible and you will be refunded.
Contact Us
Our Location
1724 Virginia Beach Blvd
Suite 105
Virginia Beach, VA 23454FIND DIRECTIONS ON OUR INSTAGRAM!
What can we do for you?
FAQs
This looks fun but I've never seen anything like this before! What exactly are the Aerial Arts?
Aerial is an athletic art form with roots in traditional circus performances. We use a variety of apparatuses (silks, hoop, hammock, rope, straps etc) suspended in air to climb/spin/perform tricks in a dazzling display! Aerial arts are also great for strength training.
Aerial Silks, Aerial Hoop, Aerial Hammock, what do those words even mean? What are the differences between these apparatuses?
--Aerial Silk/Aerial Tissue is a long piece of fabric tied to the ceiling from the center so you have two tails that reach the floor. Usually known best from Cirque Du Soleil.
--Aerial Hammock/Aerial Sling is a long piece of fabric rigged from both ends so that it hangs like a swing. You can sit/stand/invert. It's a great apparatus for beginners and many use it for yoga.
--Aerial Hoop/Aerial Lyra is a metal hoop hung from either one point or two depending on the class. Its not a hula hoop! You can sit/stand/invert in this hoop and its also a great for beginners.
I am new, where do I start?
--INTRO to Aerial is your best bet especially if you have never seen aerial arts before or if you do not have a fitness background. Try all the apparatus' we offer in one class.
These classes are also brand new beginner friendly:
--Aerial Foundations & Conditioning
--Beginner Hoop and Hammock class
--Beginner Silk & Hammock class
What should I wear? Do I need to bring anything to class?
Wear something you are comfortable moving in. Well-fitting sports/yoga clothing that cover your torso, legs and armpits. Leggings/yoga pants and form fitting tops with a sports bra. Avoid zippers/clasps/buttons that might catch on and rip silks or dig into your skin.
Jewelry should be removed before class, similar to gymnastics.For your first class, just bring yourself and a water bottle!
This looks really hard and I'm out of shape. Can I do aerial?
Yes, absolutely. Attending aerial classes is a great way to improve your physical health and get your body moving! Our beginner classes have no prerequisites.
What if I fall?
It's highly unlikely that you will fall. We follow safety protocols and provide an 8" thick crash mat under you along with a 1.5" padded flooring similar to a gymnastics studio.We also take things one step at a time, when first learning skills we are only a few inches off of the ground. Only when you're strong enough will you be asked to complete skills higher up.
I'm super inflexible. Can I do aerial?
Yes, absolutely. Every body is different, and we provide modifications and options to accommodate/challenge all flexibility levels. We also offer stretch classes & personalized home programs for those looking to improve their mobility.
I'm fat. Can I do aerial? Is there a weight limit for your classes?
Yes you can do aerial! And there is no weight limit for our classes. All of our equipment is rated for a vertical load of 5,000lbs or more. Even the smallest person can produce up to 1,000lbs of force with certain skills. We are plus-size friendly and committed to making everyone comfortable at our studio. Check out #plussizedaerialist on Instagram for inspiration!
I've got a disability. Can I do aerial?
Probably! If you are interested in aerial but have a significant physical limitation or have a neurodivergence that makes it difficult to learn in a typical classroom environment, please contact us. We can talk about ways to make aerial work for you.
I am a visiting out-of-town aerialist. What classes am I allowed to attend?
We can't wait to meet you! Please send us a video of your current aerial practice or Instagram resume ahead of time and we'll provide a recommendation for which classes are appropriate.
What are your pre-requisites for open gym?
You must have attended at least 10 aerial classes & instructor permission to be cleared for open gym.If you are taking classes at another studio or are an experienced aerialist with an individual practice, you are also welcome! Just reach out to us ahead of time and send us a summary of your aerial history.
Do you offer performance opportunities? What are the prerequisites?
We do an open Spring showcase and a themed Fall showcase. Prerequisite for showcases is at least 6 months of consistent aerial practice (think 3 or more classes a month). This should be a current practice, i.e if you took 6 months of silks a year ago but aren't currently training, that doesn't count. We also ask that you have a repertoire of at least 10 moves on your chosen apparatus that you can do easily and consistently. Beginner moves are welcome as long as they can be done safely!If you are taking classes at another studio or are an experienced aerialist with an individual practice, you are also welcome! Just reach out to us ahead of time and send us a summary of your aerial history.
Aerial Circus Party!
Looking for an extra special event? We have just the thing to add some excitement to any special occasion!Aerial circus parties are a great way to get people together, get moving, and have fun! Beginners are welcome, no experience required.
Select your occasion:
· Birthday
· Bachelor/Bachelorette
· Family/Vacation Outing
· Team Building
· OtherSelect your party theme:----Circus SamplerThis is the perfect party for those who are new to circus and just want to play! We will have multiple apparatuses out and will take you through an introductory class covering entrances, foundational movements, and some beautiful beginner poses!----Single Apparatus SpotlightAre you a lyra lover? A Silks siren? This party will focus on just one apparatus for those who want a specialized experience. Choose between Aerial silks, Aerial Hammock, and Aerial Hoop.----Born for the StageDo you have dreams of running away to join the circus? How about starring in your very own aerial performance? We will choreograph a short & fun routine for you and your group (no experience required). This is a great option for bachelor/bachelorette parties.
**This option requires a 2hr party time, additional $50 to the pricing below.----Just for the Juniors! (ages 8+)This is a multi-apparatus circus class tailored specially for kids! This is the perfect option for birthday parties, after school activities, scout group outings, you name it!
--Please contact us for kids options & party policies
Party Pricing: $300 (Max. 10 people / 1.5 hrs).
Includes 1 hour lesson on multiple apparatus or aerial equipment of choice and 30 minutes of play/photo time.
-Additional participants may be added at a cost of $15 each.
-Born for the Stage option add on $50 for the extra 30 minutes required for routine choreography.
Custom Aerial Party: Got something extra special in mind? Contact us and we'll make it happen!
Youth Summer Camps!
Ages 8-15
Beginner & all gender friendly. Run off with the circus for a week! Campers will learn group exercises including team building exercises, self-esteem exercises, gymnastics, dance, aerial arts classes (including silk, hammock and lyra), aerial yoga, stretching and meditation. On the last day of each week, parents are welcome in after camp is over to photograph/video students as they show off their newly learned skills!
Dates/Time:
June 12-16 (M-F) 9am-330pm
July 10-14 (M-F) 9am-330pm
July 31-Aug 4 (M-F) 9am-330pm
*Earliest drop off is 830AM, the latest pickup is 3:45PM.Cost:
$350.00 per student, per week.Registration:
Opens March 22nd and must be completed/paid in full online
Register here*Please review the Camp Information Packet (click the button below)